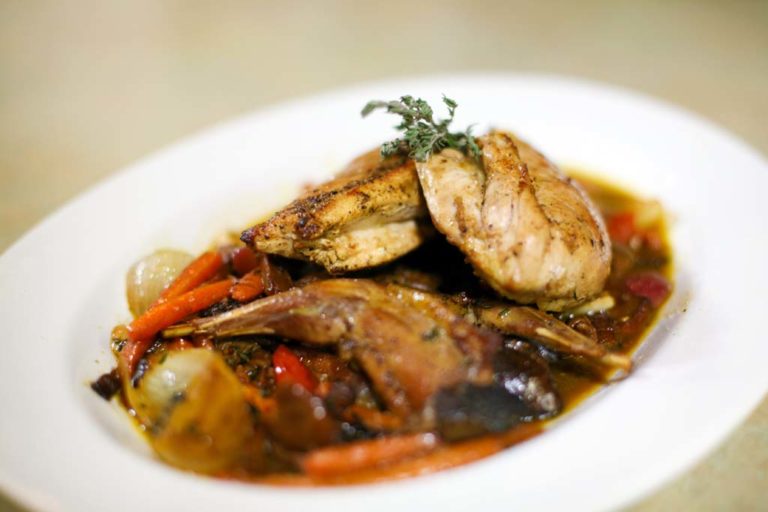 Chef's notes:
Ingredients
2 Tbsp butter
1 Tbsp olive oil
1 ruffed grouse, quartered
salt and pepper to taste
2 small onions, quartered
3 cloves garlic, slivered
2 carrots, julienne
4‒5 forest mushrooms
1 Tbsp mustard
1 tsp thyme
1 cup game stock, reduced by half
¼ cup tomato, quarters (optional)
Ruffed Grouse Recipe: Quartered Ruffed Grouse Seared in Butter and Pan-Roasted with Vegetables and Game Stock
Quarter a grouse and season it. Typically the legs of the grouse aren't used, as they are believed to be too scrawny and not worth the effort. But as you can see in the photo, there are actually a few bites there. Quarter the grouse and season it with salt and pepper. I saved the giblets from my grouse because they are edible and tasty. You don't have to add them if you don't have them or you don't want them.
Brown the grouse quarters in butter. Melt 2 tablespoons of butter in 1 tablespoon of vegetable oil over medium-high heat in an 8-inch skillet. Brown the grouse on all sides, remove the browned pieces from the pan, and set to the side. Add the onion, garlic, mushroom, and carrot to the pan and saute for 3 minutes. Preheat the oven to 425 degrees F and move an oven rack to the middle. In a separate pan, reduce the 1 cup of game stock to a ½ cup.
Pour the reduced stock over the grouse and finish it in the oven. Stir the mustard and thyme into the vegetables in the pan and add the optional tomato pieces. Toss to mix everything evenly. Lay the grouse pieces on the top of the vegetables and pour the reduced stock over the top and stick it in the oven. Roast the pan in the oven for about 10 minutes until the grouse breast is fully cooked, around 150 degrees in the middle.
Tips & Tricks
If you can't find ruffed grouse, try another type of grouse or game bird like squab, quail, pigeon, dove, or even pheasant would work. Or if you really can't find anything, try chicken or Rock Cornish hens.
Substitute chicken or veal stock for the game stock if you don't have any of that on hand, either.
Add a little brandy at the end to give this recipe a little French kick in the pants.